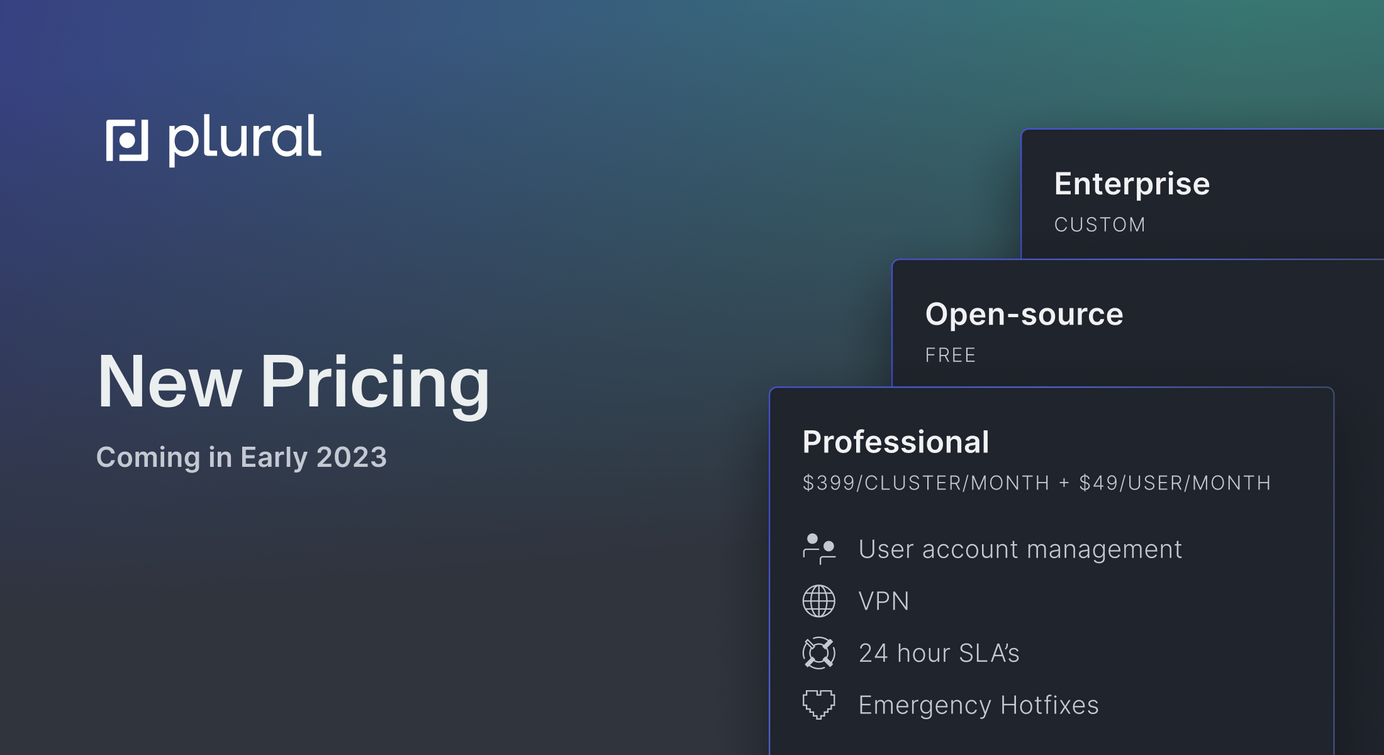 Changes to Plural's Pricing
To make it easy for companies to become successful with Plural quickly with low friction, we have added a Professional pricing tier. Here's why.
To make it easy for companies to become successful with Plural quickly with low friction, we have added a Professional pricing tier. This middle-tier pricing will contain features targeted at organizations that want to future-proof their infrastructure in production while helping to fund the development of the open-source project.
As of today, all existing users utilizing features that would fall into our professional plan will receive 3 months of free usage to allow for a smooth transition to the new pricing.
Why are we making this change?
Open-source monetization is far from a science, but we wanted to tackle scaling our business intelligently. We worked diligently with existing Plural champions and new users to make sure our tiers are affordable and provide value for their businesses.
We will iterate on this in the upcoming months, and we welcome any feedback. Most of all, we want to be transparent about what users can expect with the changes, so we'll be straightforward about what will change and what won't.
We'll now go over the tiers to talk about what's covered in each one.

Plural Open-Source
Current open-source users of Plural will be mostly unaffected by this change. Users that continue to use Plural OSS would no longer have access to role creation and service account creation.
These gated features are exclusively around team collaboration and support, which are mostly necessary for more developed use cases of our project. Existing roles and service accounts will be unaffected by this change, only creation will be disabled.
Plural Professional
Plural Professional offers a lightweight and affordable package that gives you access to our more advanced support and collaboration features at a fraction of the cost of normal enterprise support contracts.
You will be able to submit emergency hotfixes, get a 24-hour business hours SLA, and access our in-app live chat. On the collaboration side, you will get access to role creation and service accounts, which will let you tailor permissions for users and make permissions for installation groups easier to manage. Finally, you'll get access to our VPN service, which will enable private networking use-cases.
Plural Enterprise
Plural Enterprise remains unchanged as a solution for customers that want to guarantee success for their bespoke infrastructure installations that we build in partnership with them. Alongside a tighter 4-hour SLA, you get access to a private Slack channel, dedicated support, our SAML integration, prioritized requests for application additions to our catalog, and a commercial license for reselling our solution.
Future Plans
We will be gathering feedback from our user base and community over the next few months to make sure that we are hitting a good balance on pricing. There isn't any one perfect approach to this, so we're leaving some wiggle room to make sure we can iterate quickly to enable everyone's use cases with Plural.

If you have any questions at all, please don't hesitate to reach out to me or any other member of the Plural team.
Newsletter
Be the first to know when we drop something new.
---