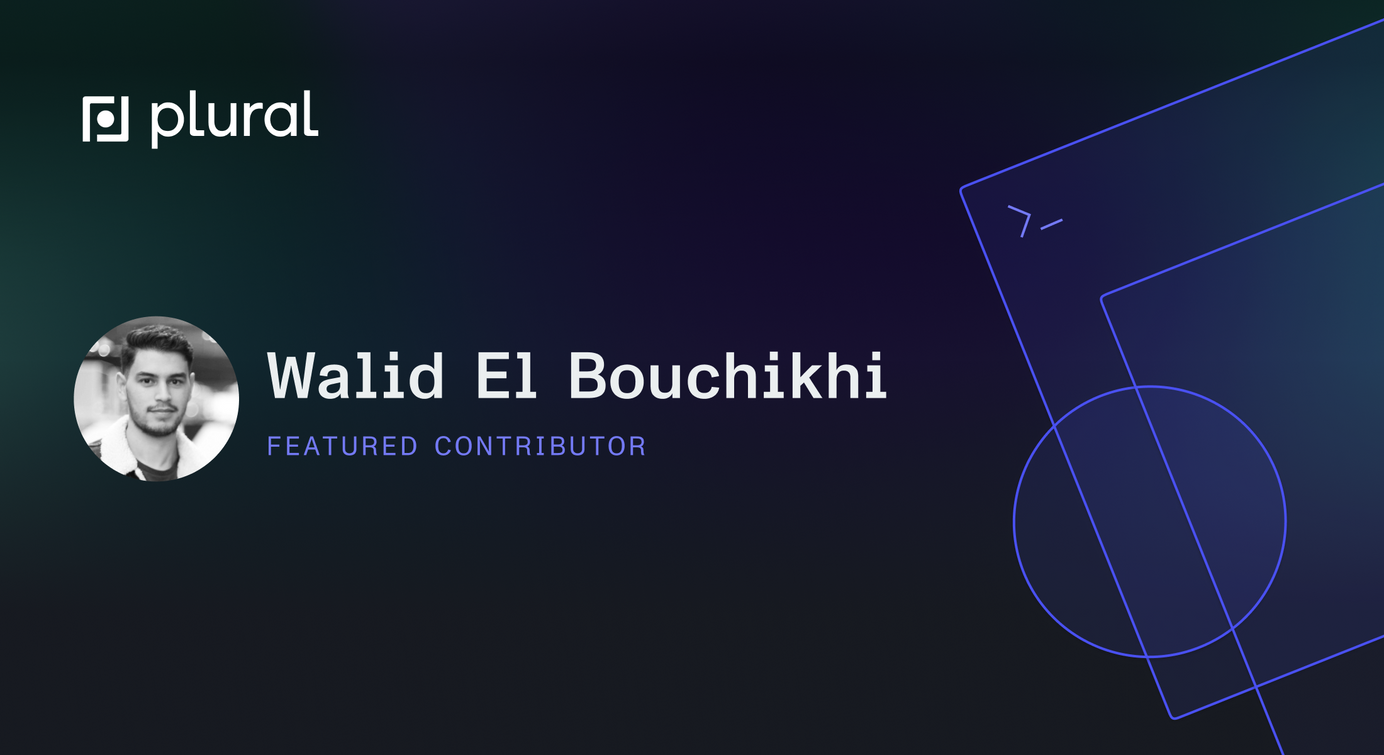 Featured Contributor: Walid El Bouchikhi
This month, our Featured Contributor is Walid El Bouchikhi, a data engineer at Beamy who is a champion and early adopter of Plural.
Every month, we feature an individual who has stood out in our community as a notable contributor or user of Plural. This month, our Featured Contributor is Walid El Bouchikhi, a champion and early adopter of Plural over the past few months.
Walid is a data engineer at Beamy, a French startup focused on assisting large organizations in monitoring and managing their SaaS applications. Walid is passionate about the data space, and during this interview, we'll learn more about Walid's background, his thoughts on the data ecosystem, and his experience with Plural so far.
Where do you work - and what is your day-to-day like at your job?
I am currently working at Beamy, a French startup focused on assisting large organizations in monitoring and managing their SaaS applications. My work at Beamy involves collaborating with my data team to develop a secure and robust data platform that can handle vast amounts of data. Through this platform, we provide valuable insights to our clients regarding their SaaS ecosystem.
One aspect I truly enjoy about my job is the constant exposure to unique technical challenges, which we tackle by leveraging cutting-edge data engineering technologies. I am responsible for constructing and maintaining data pipelines and algorithms. My work spans across disciplines such as data engineering, DevOps, and machine learning. It is this versatility that I appreciate the most, as each day brings new opportunities to learn and grow.
How did you get into data?
After studying computer engineering in a comprehensive manner, including web apps, security, networks, etc., I decided to further my education in Big Data and Artificial Intelligence at ESGI, a renowned computer science school in France.
I wanted to explore this rapidly expanding world and understand why some refer to data as the "oil of the 21st century," as well as how artificial intelligence operates. Following several years of working part-time alongside my studies, I ventured into freelance data engineering assignments before eventually joining Beamy, where I have been working for the past two years on fascinating data-related projects.
How has your journey with Plural been?
I heard about Plural from data experts who claimed to deploy Airflow within minutes. I was very curious to discover what Plural had to offer. Since we were revising our data platform, we wanted to deploy a Kubernetes cluster with various data applications such as Airbyte, Dagster, and others.
After conducting some tests locally, I was convinced of the added value that Plural provided. We no longer needed a dedicated DevOps team; instead, we actively participated in the industrialization and deployment of our applications through Plural. Additionally, it allowed us to quickly gain proficiency in Terraform and Helm, which are two important components utilized by Plural. I want to express my gratitude to the Plural engineering team for their time and support on Discord in resolving the issues we encountered.
I was very curious to understand how Plural worked, and luckily, it is an open-source project. Consequently, I delved deeper to comprehend how applications were added to the Plural marketplace.
It turned out that there was an application our team needed, but it was not available on the marketplace. Through exchanges, code reading, and guides, I was able to contribute to Plural by adding this app. Subsequently, I actively participated in the development of open-source applications on Plural. As of the time of writing this article, I have contributed by adding five applications and fixing existing ones.
I am also curious to see what Plural will bring in the future, particularly with their new tool, Plural Continuous Deployment. This new feature could be very promising in simplifying and automating the continuous deployment of our data applications. I am excited to discover how Plural has approached this process and how it can streamline our deployment workflow. As a data professional, tools that simplify and accelerate the deployment of our applications are always welcome.
How is the data scene in France?
The data scene in France is very dynamic. Over the past few years, there has been a significant increase in the importance and demand for data-related roles and technologies. French companies, both large organizations, and startups, recognize the value of data-driven decision-making and are investing in data infrastructure, analytics, and AI.
France has a robust ecosystem of data-related companies, research institutions, and educational programs. Paris, in particular, has emerged as a hub for data science and AI, attracting talent and fostering innovation. There are various data science and AI conferences, meetups, and events held regularly, providing opportunities for networking and knowledge sharing.
Which application in the Modern Data Stack do you mostly work with?
When it comes to data ingestion, Airbyte serves as an efficient and user-friendly tool. It simplifies the process of extracting data from diverse sources, allowing for seamless integration with various data systems and enabling smooth data loading into desired storage or analysis platforms.
For orchestration, I have found Dagster to be exceptional, especially in comparison to Airflow. Dagster offers advanced capabilities for managing and scheduling data pipelines, emphasizing data quality, reliability, and observability. Its unified approach makes it easier to ensure the smooth execution of complex data workflows.
When it comes to transformations, dbt is my go-to tool. It simplifies and streamlines the process of transforming and modeling data within the data warehouse. With features like version control and testing, Dbt enables efficient data transformation and management, making it an essential part of my data workflow.
Outside of work what are your hobbies and interests?
Beyond work, I have a keen interest in exploring new technologies, particularly in the field of data. I enjoy staying up-to-date with the latest advancements and reading about emerging trends in the data industry.
In addition to my fascination with technology, I have discovered a passion for playing the piano. It all started when I stumbled upon a captivating cover of Interstellar on YouTube, which ignited a newfound love for the instrument. Teaching myself to play has been a fulfilling journey, and whenever time permits, I find solace and joy in creating beautiful melodies on the piano.
I have recently developed a strong passion for FPV drone flying, and I absolutely love it. I have invested in a radio controller and I'm dedicating myself to practicing on a simulator to enhance my skills before flying a real drone in the future. This newfound hobby allows me to fully indulge in my enthusiasm for electronics, videography, and aviation.
What do you think will be the most important technology of the future?
There's no doubt that artificial intelligence (AI) will play a key role as the technology of the future. We are currently experiencing rapid progress and witnessing its growing impact in various fields.
As someone who has studied and been involved in AI, I'm very enthusiastic about it. It's possible that one day I'll have the chance to dive back into this fascinating field and contribute to its ongoing progress.
The ever-evolving nature of AI promises remarkable opportunities for innovation and transformation in the years to come.
Newsletter
Be the first to know when we drop something new.
---