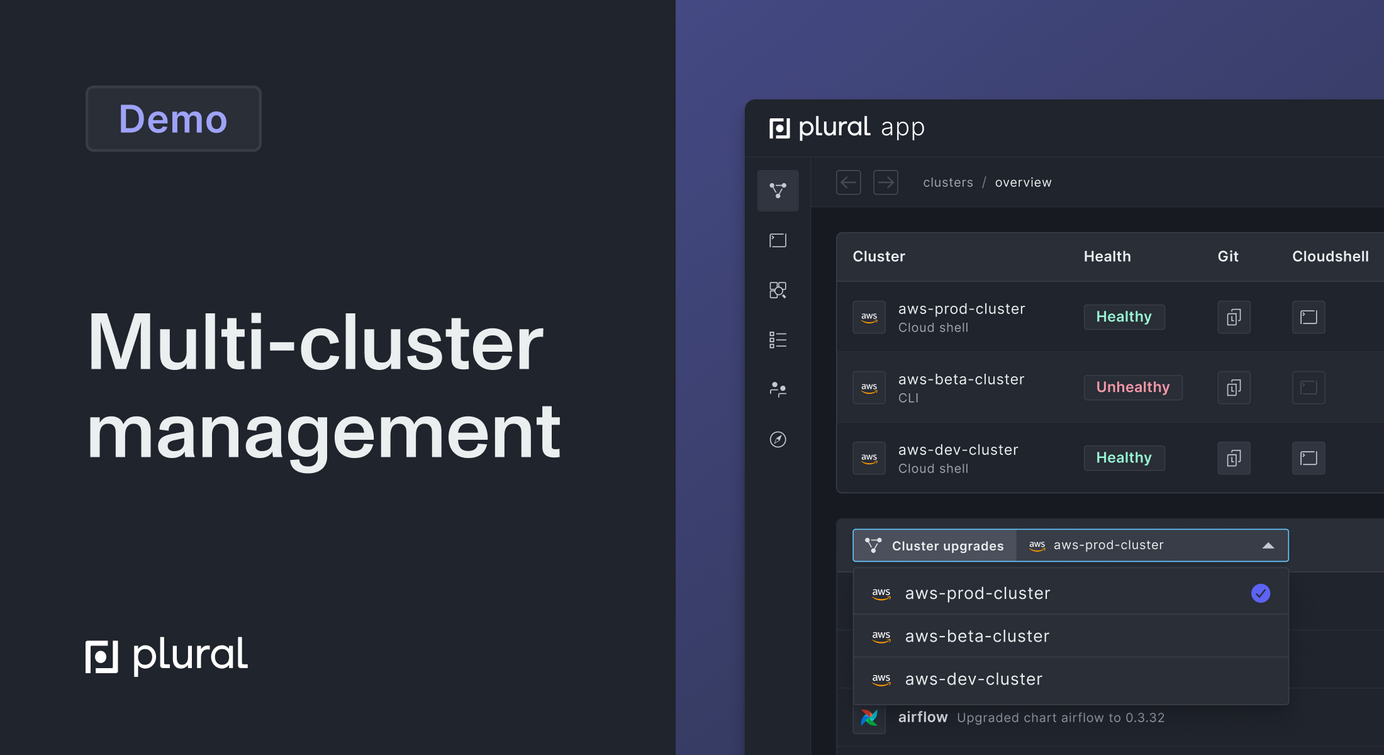 Introducing Multi-Cluster Management
Introducing Multi-Cluster Management. Our latest release simplifies managing multiple Kubernetes clusters within Plural across cloud providers.
Earlier this year, we surveyed our users on how they use Plural in their organizations. During our talks with customers, we noticed a common theme - users needed a way to manage multiple clusters from a single account, and there was a clear demand for workflows that bridged across clusters.
Previously, managing multiple clusters in Plural required toggling between accounts and manually manipulating each cluster separately, and there was no way to promote configurations between clusters. This entire process was less efficient than it needed to be, and ultimately slowed engineering teams in adopting Plural across their organization.
Today, we're excited to introduce Multi-Cluster Management for Plural. Our latest release simplifies managing multiple Kubernetes clusters within Plural across cloud providers.
Check out a quick demo of Multi-cluster management below:
Multi-Cluster Management gives engineering teams the ability to:
Easily manage clusters across their organization: Many organizations may maintain multiple clusters separated for different functional groups. As an example, a data analytics team may have its data stack on one cluster, while the core engineering team has its observability stack on a different cluster. With Multi-Cluster Management, you can view and manage multiple clusters in a single place, while getting a quick snapshot of the health of each cluster, what applications are installed on the cluster, and who on the team has access to that cluster.
Have separate but related environments for development and production clusters: Development clusters often take the most recent versions of applications for a short time to test out whether the new versions will break anything in production. With the promotion feature included in this release, teams can choose to manually promote the dev configuration to production, or set an upgrade policy that automatically promotes a cluster to production after a set period.
In the upcoming weeks, we will continue to gather feedback from users on the release of Multi-Cluster Management. If you have any questions about these features or additional functionality you'd like to see, please don't hesitate to reach out to me or any other member of the Plural team.
Newsletter
Be the first to know when we drop something new.
---