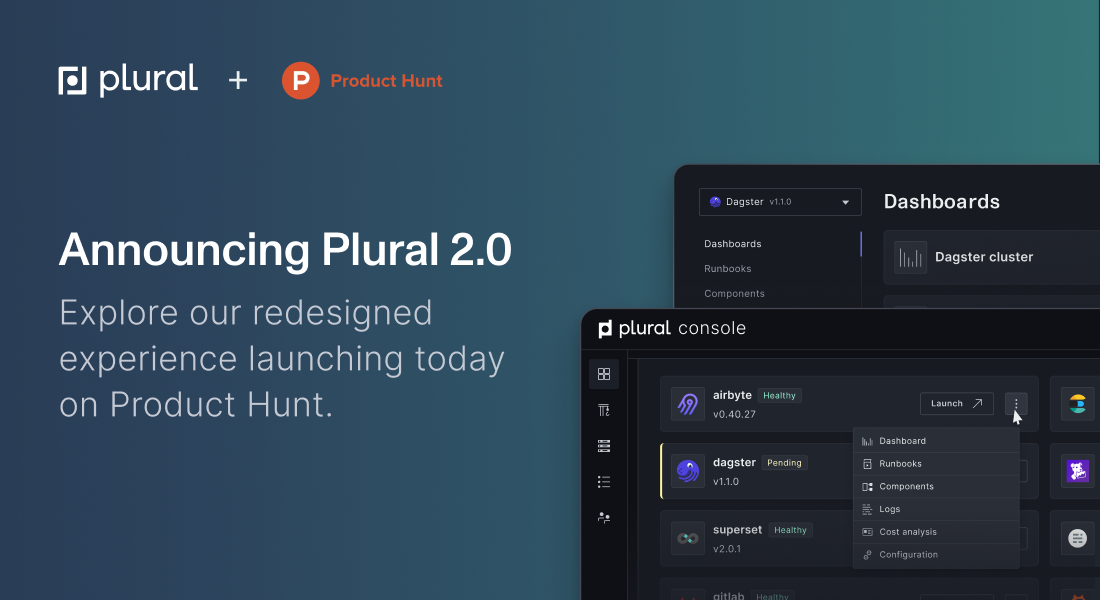 Announcing Plural 2.0, Now Live on Product Hunt
We're happy to share that Plural's latest launch is live on Product Hunt! We'd love your support and feedback.
Table of Contents
When it comes to managing open-source applications, you have two options. The first option is to dedicate an engineer to deploy and manage the responsibilities that come with OSS (patching, upgrades, security, scaling).
The second option is to pay for a managed service from a cloud provider, which costs a few dollars an hour (at a minimum) and offers limited operational insight into how the software performs in production.

It shouldn't have to be this way.
Today, we're excited to introduce Plural 2.0. Our latest version offers a streamlined in-browser onboarding experience along with a redesign of Plural Console to make deploying, managing, and scaling your apps easier than ever.
Plural 2.0 gives you access to exciting features, including:
One dashboard to manage all your applications and see the health of your cluster
An improved onboarding experience gives users an improved way to install open-source software in minutes
A gitops workflow with batteries included and transparent secret encryption
The ability to choose from over 50 open-source applications to deploy from our marketplace

Plural wouldn't be what it is today without our community. I and the rest of the team want to thank everyone who has supported us, given us feedback, and helped us along the way. We're excited about what we have built - and the impact it will have on developers.
Newsletter
Be the first to know when we drop something new.
---