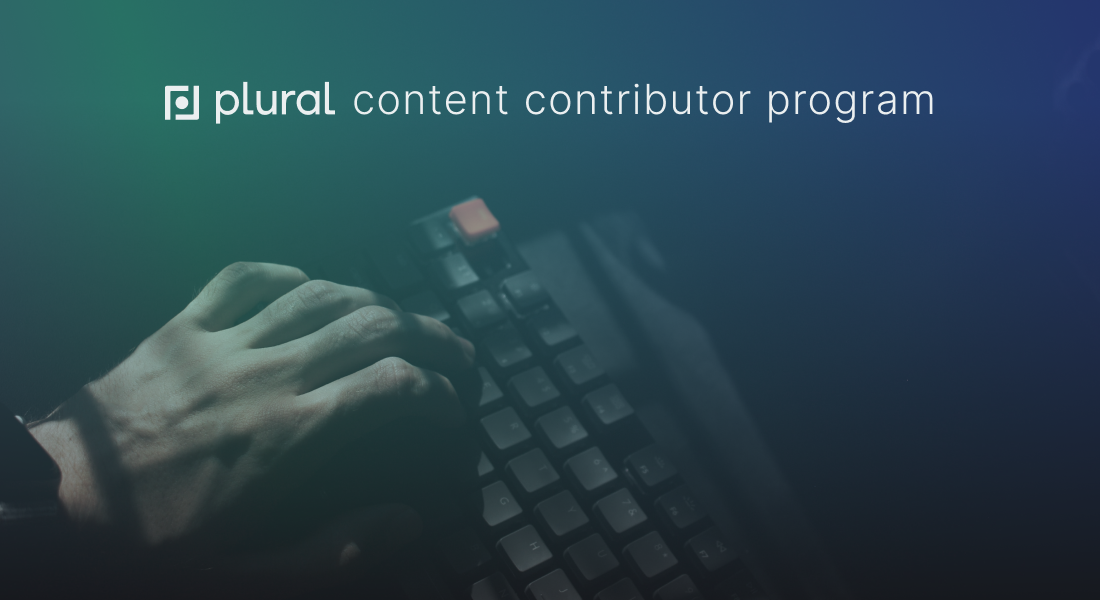 Plural Content Contributor Program
Plural is now accepting applications to contribute content to our blog. Earn $300 per 1,000 word-article that you write for Plural.
Table of Contents
Are you a Software Engineer, Data Engineer, Kubernetes expert, or Open-Source advocate looking for a platform to share your knowledge with thousands of other developers and open-source enthusiasts?
If this is you, we are now accepting writing applications for our blog. As of Monday April, 17 we are now offering $300 per 1,000-word article that you write for Plural. Apply below.
What are we looking for?
Currently, we're accepting applications for the following article types:
Tutorials on what you built with Plural. Did you build something awesome with Plural and think others could benefit from your experience? Great, this is the perfect chance for you to show off what you built, how you built it, what challenges you faced in building it, and how Plural helped you overcome those challenges.
Application-specific deployment guides. We're always looking for individuals to help detail what goes into deploying a specific application on Plural to help the community get started quicker. For an example, check out our latest blog on installing Airbyte with Plural here.
Architectural comparisons of popular DevOps and Data open-source tools against each other. Do you have a really strong opinion of Prefect over Dagster? Or, Metabase over Superset? Great, this is your chance to highlight why you think one tool outweighs the other. A great example of what we are looking for is this article from our CTO and Co-Founder Michael Guarino . We are not a Front End tool so we will not be accepting applications for those sort of tools at these time.
Is this you?
We encourage everyone to apply, but there are some traits that will stand out to us. Our ideal candidate can:
Provide readers with a new insight or opinion on Kubernetes, DevOps, and Open-Source space. We are not looking for repeat ideas, we are looking for new content that developers like you will find valuable.
Previous experience writing blogs, tutorials, documentation on the topics you are submitting for. While, you don't have to be an expert writer, we do ask that your writing shows familiarity with the topic you are writing about, is nicely structured, and contains few grammatical errors. Our team will walk you through any changes we deem necessary and work hand-in-hand with you to get your draft ready to publish.

We do require that applicants have examples of articles they have published in the cloud native and DevOps space, so make sure to have some content live for us to review. We can potentially make exceptions for experienced writers in adjacent technology spaces.  
Article Submissions
To apply we ask that you pick one of the above topics and submit a rough outline for our editorial team to review. In your outline please include a brief summary of what you will be writing about and why readers will find it interesting.
We also ask that you submit a LinkedIn URL along with your application so our team can vet your experience before we approve for you to write the article.

Once our team does approve the outline; we'll be in touch to discuss the next steps (Note: this will take up to 24 business hours)
Outline of the Writing Process
Submit an application and let our team get to know you better. During this time you will also have the opportunity to include a general summary of what topics you may want to submit to the Plural blog if accepted.
Our team will review your application and get back to you whether or not we decide to move forward
If you are selected, we'll agree on a topic and be in touch to discuss the next steps.
Write the blog for our team to review and edit on our end. Since our review process is a collaborative process we ask that you write the blog in Google Docs to allow us to all easily work on this together.
Publish and Get Paid! Once we publish your blog you will receive your payment. Yes, it really is that easy.
FAQ
How much do I get paid to write?

You get paid $300 for a 1,000-word blog after it is published. Please contact community@plural.sh for more information on payment options.
What language must the blogs be in?

At this time we are only accepting blogs written in English only.
Can I post the blog as well?

Yes, once we publish the blog you have all rights to post it on your own blog. We just ask that you set the Plural article URL as the canonical URL.

Disclaimer


Contributor hereby grants to Plural and its affiliates a non-exclusive, perpetual, irrevocable, worldwide, royalty-free, transferable, sublicensable (through multiple tiers) license to freely use, make available and otherwise exploit any materials or contributions submitted by Contributor for any purpose ("Contributions"). Contributor represents, warrants and covenants that: (a) all contributions and Plural's use thereof will comply with all applicable laws, rules and regulations; (b) Contributor's submission of Contributions is not and will not be inconsistent with any obligation Contributor may have to others; (c) neither Contributor's submission of Contributions, nor Plural's development, use, production, distribution or other exploitation thereof will infringe, misappropriate or violate any intellectual property or other right of any person or entity (including, without limitation, Contributor); and (d) Contributor has the full right to provide Plural with the Contributions and foregoing license. Plural reserves the right to review all Contributions and may or may not, within Plural's sole discretion, use or incorporate Contributions into Plural's offerings. Contributor is providing Contributions as an independent contractor and is not a partner, joint venture or agent of Plural and shall not bind nor attempt to bind Plural to any contract. Contributor is not a Plural employee or consultant, and Contributor shall not be eligible to participate in any of Plural's employee benefit plans, fringe benefit programs, group insurance arrangements or similar programs.
Newsletter
Be the first to know when we drop something new.
---