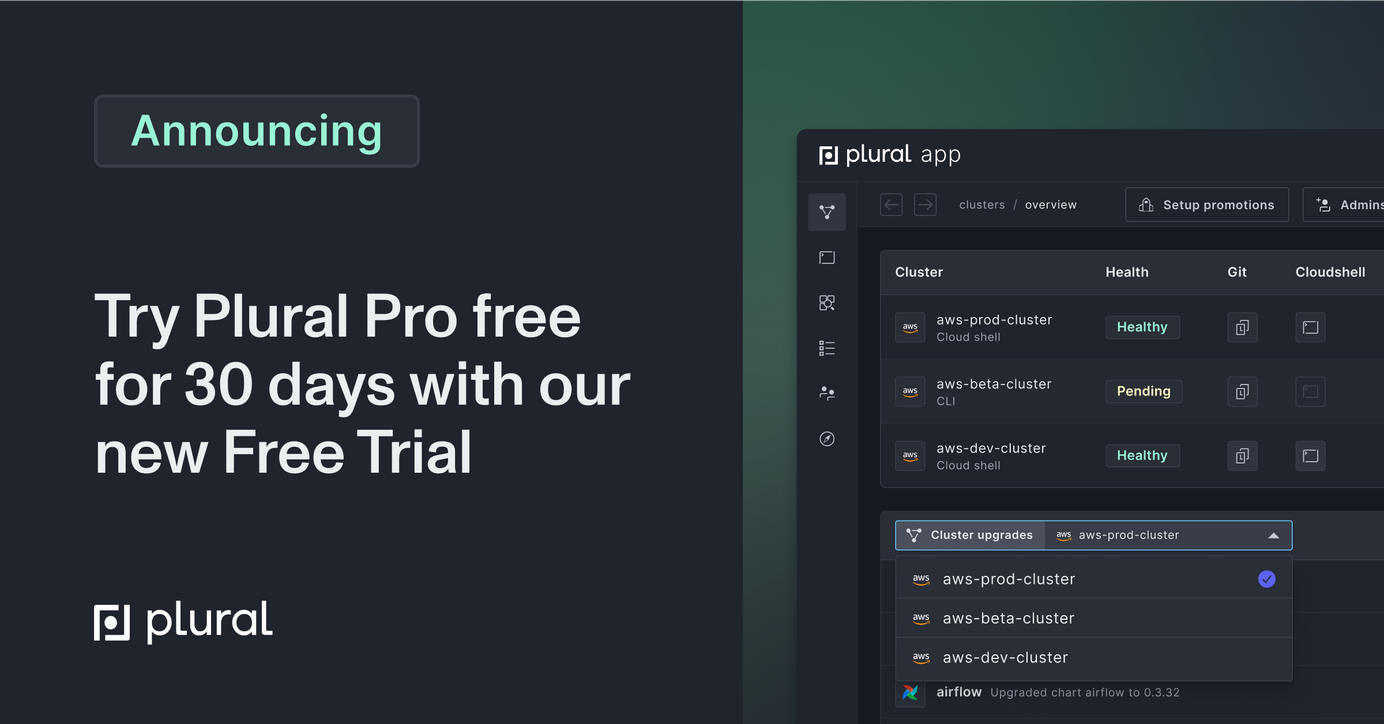 Start a free 30-day trial of Plural Pro
For a limited time, we are offering new and existing users a risk-free 30-day trial of Plural Pro. Here's what users can expect with Plural Pro.
For a limited time, we are offering new and existing users a risk-free 30-day trial of Plural Pro. With Plural Pro, users can access features to future-proof their infrastructure in production. Here's what you can expect when test-driving Plural Pro:
Multi-Cluster Management: With Multi-Cluster Management, you can deploy and manage multiple clusters in a single place, while getting a quick snapshot of the health of each cluster, what applications are installed on the cluster, and who on the team has access to that cluster.
Dev to production promotion flows: With the promotion feature, users can choose to manually promote the dev configuration to production, or set an upgrade policy that automatically promotes a cluster to production after a set period.
Advanced user management: Allows users to create groups, roles, and service accounts to tailor permission for users making permissions for installation groups easier to manage.
Audit logs: All mutations in both Plural and the Plural Console have full audit logging, which can be attributed back to the actor and IP address responsible.
VPN: Users gain access to our VPN service, enabling private networking use cases.
Our latest trial is risk-free, and no credit card is required to get started. New users will automatically start with the free trial and can use all the Plural Pro features right-away for 30 days. Any existing open-source user can click the "Try free trial" button on the /billing page and activate the trial if they would like, or can access it with this link https://app.plural.sh/account/billing?trial=1
In the upcoming weeks, we will continue to gather feedback from users on the features included in our Plural Pro Plan. If you have any questions about these features or additional functionality you'd like to see, please don't hesitate to reach out to me or any other member of the Plural team.
Newsletter
Be the first to know when we drop something new.
---