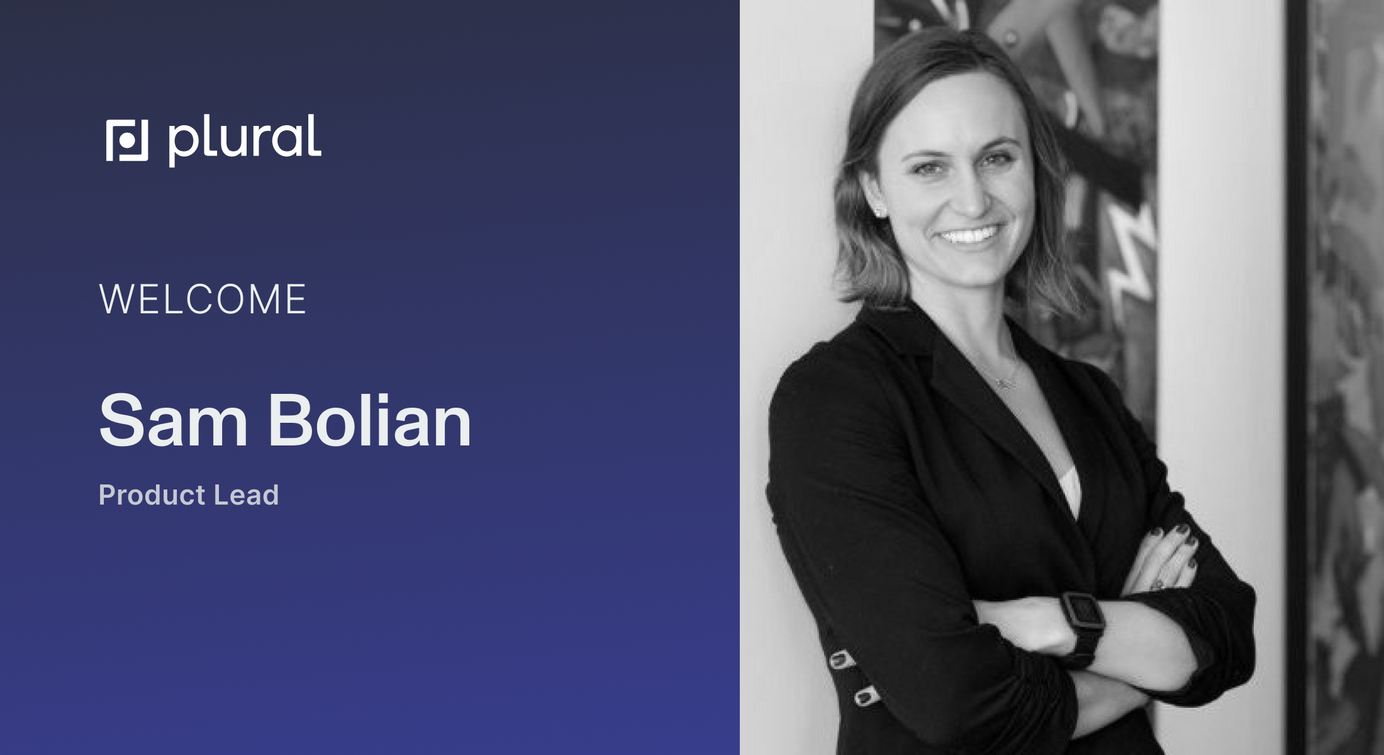 Welcoming Sam Bolian as the Lead Product Manager for Plural
Sam Bolian is Plural's first Lead Product Manager. Before joining Plural, Sam spent the last 6.5 years at Palantir. Let's get to know Sam.
Table of Contents
We are excited to welcome Sam Bolian to the team as Plural's Lead Product Manager. Before joining Plural, Sam spent the last six and a half years at Palantir across a variety of roles in business and product development.
During her time at Palantir, Sam led the product team for Edge AI product where she built model orchestration software for near and far edge that played a critical role in the company's defense offering. Their software was sent into space as part of a launch earlier in the year.
Sam is going to play a huge role in shaping the future of our product to best serve not only our customers but also the entire open-source ecosystem.
Let's get to know a little more about Sam.
What are some fun facts about yourself that others might not know about you?
I'm a bit of a helicopter dog mom, and my favorite pastime is doing agility with my 2-year-old mutt Bella. Also, I can eat sushi every day and never get tired of doing so (my current longest streak was 10 days while I was visiting Japan.) One of the most addictive video games I've ever played is Robot Unicorn Attack. It's a very simple game that is still around and I highly recommend you try it for yourself if you need to kill time.
Where did you go to school and work before starting at Plural?
I attended Stanford University and got a B.S. in Computer Science and an M.S. in Management Science and Engineering. After college, I took a job with McKinsey where I was a Business Analyst for two years. I then moved on to Palantir where I was for the last six and a half years, working across various roles on the business and product development teams.
How did you get involved working in the product industry?

When I first started at Palantir I was more focused on the business development side and worked directly with our customers. I was assigned a few accounts and worked with users that all happened to be using the same set of products to manage their high-scale time series data.
From that moment on I knew I wanted to deliver the features that they needed, and saw that I can have this impact working across both business and product development which eventually led to me being a product manager at Palantir.
Why did you want to work at Plural?
Plural filled a unique gap that I uncovered during my time at Palantir. I interacted with a large number of clients that needed assistance building their infrastructure. Oftentimes, it came down to a choice of deciding whether to fork over a large chunk of money for managed services or trying to hire the right people that have the expertise to build it and have them serve as a DevOps team.

I thought to myself, "There had to be a better way to serve these companies." And that's how I found Plural. After I talked to the team and realized how strong, humble, and talented they were, it was an easy decision to join the team.
What are your goals while working at Plural?
I would break down my goals into three separate categories:
Make sure our development is guided by the "voice of the user". What we are building should be solving real-world problems and I want to ensure we are on track to do just that as an organization.
Reduce the friction within Plural's product set. I want to ensure that it is as easy as possible to get up and running with the applications you need.
Ensure that our progress and company roadmap are publicly visible. I want to take in as much input and engagement from our community as possible to shape our product to best serve our customers.

We are super excited to welcome Sam to the team and watch her help us create an impact in the open-source community.
If you are looking to join our team, check out our current job openings, and reach out to me with any questions.
Ready to effortlessly deploy and operate open-source applications in minutes? Get started with Plural today.
Newsletter
Be the first to know when we drop something new.
---